Bushcraft & Survival Courses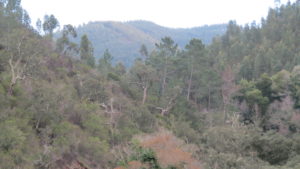 Woodland Wilderness School is the first bushcraft / survival school in Southern Portugal. We teach outdoor skills in one of Europe's most remote areas, the Baixo Alentejo. Courses are generally held in English, however individual or small group classes can also be taught in German or Portuguese.
Background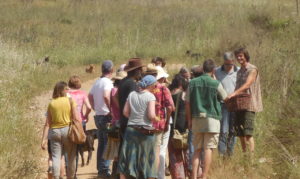 Our schedule though slightly modified and adapted for Europe is based on the teachings of Tom Brown Jr. This  implies the maybe most important characteristics of Woodland Wilderness School. We do not teach survival as a struggle against nature – man against the elements – but as learning to become part of nature again in order to survive. 
This is achieved through a deep understanding of nature, based on observation, skills and awareness, and finally leads to finding man' s role in the big circle of life. 
Class Contents
Survival I
The Basic Survival course is designed to provide all participants with the basic knowledge to be able to cope with a survival situation. This course is designed to enable the participants to survive long enough till they found their way back to civilisation or rescue teams have found them.
Some skills to be acquired in this course: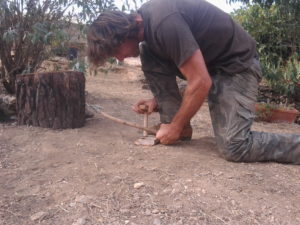 Shelter and Insulation

Finding and cleaning water

Fire making

Finding and preparing food

Basic wildlife and tracking

Orientation

Camouflage and stalking

Pr

imitive hunting (introduction)
Duration 4 days
27.- 30. October 2020 and
3.- 6. December 2020
Survival II – Bushwalker

The advanced survival course is more practical, applying and refining skills from the survival I class and learning new techniques. This course is designed to enable the participants not only to survive in the short term, but to thrive out in the wilderness and therefore goes deeper into bushcraft and primitive skills. It is for extended survival situations or those, who don't want to get rescued…
Some skills to be acquired in this course:
Advanced Shelter building

Crafting tools, bowls and vessels

Primitive hunting and trapping (advanced)

Tanning and smoking

Primitive skills
Survival cooking
Bark-craft
Survival bow and arrow
Duration: 4 days
Date:
Courses about special topics:
Guided plant tours

Edible plants
Medicinal plants
Poisonous plants
other uses of plants
Duration: half day/ day
Lakeside Survival
Rescue and salvage

Construction of a float / primitive canoe

Suspension bridges

Primitive fishing

techniques

Fishing Nets and Baskets
Duration: 4 days
Date:
Clay Building Workshop
Construction of a clay hut (Hogan)

Construction of and baking in a clay oven
Duration: 4 days
Family Survival Class

We designed a special program, which suits all family members. Tasks will be mastered as a team and individual st
rengths are promoted. This way the course becomes a common nature experience, sustainably invigorating the family bonds.
Duration: 4 days
Caretaker
This course teaches how to take care for a certain landscape and help healing the earth. It is secondary, if it is the own piece of land, or a piece of landscape a person feels responsible for. The caretaker learns wich indicator plants/ animals show an increasing diversity and how to enrich a plot of land. How can he promote and accelerate the natural processes and help the land restoring itself? And how can necessary interventions be carried out in harmony with the natural plant- and animal community?
During the course the students learn to recognize, were in a certain area help is needed and how to apply it.
We lay a special emphasis on areas that were massively disturbed and disrupted through human interference. How can a process of healing be initialised and wounds be closed? How can a renaturalisation be supported and even enhanced?
Duration: 3 days
10.- 12. November 2020
Prices, Schedule, Bookings
The Woodland School is an exclusive but simple offering. Please send us a mail or contact to speak about your interests, preferences, number of people, timeline and our recommendations. Based on this information we will prepare a very competitive offer.