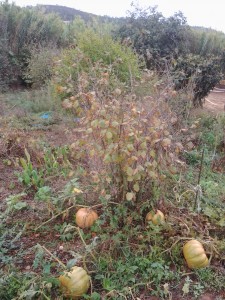 One of our dearest tasks is the vegetable garden and within this field especially the Permaculture – garden. As the name tells, Permaculture refers o a permanent soil culture, in the ideal case even a   working system in which different circuits flow into each other, promoting and nourishing one another. In the Permaculture – garden fruit- and nut- bearing trees, climbers, berries, perennial vegetables and herbs are mixed, growing into each other simmilar as in a primary forest. Other expressions for the same thing are 'forest garden[1]' or 'food forest'. The plants form a multilevel community in which the trees provide shelter for the lower plants, at the same time dragging up water and nutrients from deeper soil levels and making them available for the others. The gr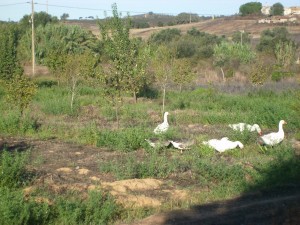 ound cover on the other hand shades the soil and preserves it from drying out. Herbs help to restrain diseases and plagues and leguminous plants filter carbon out off the air bringing it into the system. In autumn the leaf litter forms a humous layer, so as time passes a deep and rich soil forms. Farm animals like chicken and others can also be integrated into this system, if done extensively. Only a minimum of maintenance work is required, when one species gets too dominant and threatens to suppress another. In most cases however it were just the wrong species mingled together.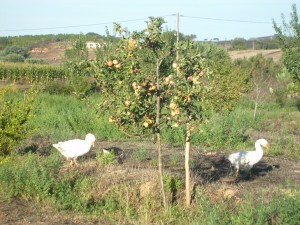 Permaculture – like structures can be found in or at the side of a lot of old Portuguese gardens, as a remains of subsistence farming, which is still alive in many areas and currently becoming more important again. So Portugal is an ideal 'experimenting area' for these new old approaches.
We would be pleased to help you find the right plants and mixture for your garden and can assist with planting and maintenance.
Species that proved suitable for permacultural gardens in southern Portugal (Baixo Alentejo/ Algarve region):
Fruit and nut- trees: anon, apple, apricot, avocado, black walnut, banana, per, clementine, fig, feijoa, pomegranate, pitanga, guava, hazelnut, carob, khaki, chestnut, (cherry), grapefruit, Japanese medlar, kumquat, lemon, mandarin, almond, mulberry, nectarine, olive, orange, peach, plum, quince, walnut,
Berries: blackberry (tame!), strawberry, raspberry, Physalis
Perannual vegetables: artichoke, earthalmond, fennel , mangold, asparragus (green), spinach, sunchoke, tree cabbage
Klimbers: kiwi, maracuja, grapes, chuchu,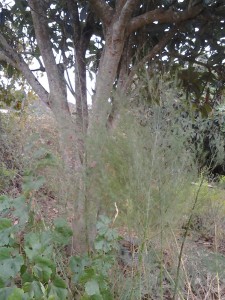 Annuals:   climbing beans, pumpkin, melon, tomato, zucchini and others
Herbs: melissa, milfoils, oregano, peppermint, rosemary, rosy- garlic, thyme, tulbagia, vervain, and a lot of other tee- herbs and spices.
[1] Robert Hart, Der Waldgarten, PIKS- Verlag, Steyerberg, 1992