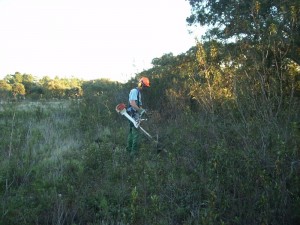 Have you got a piece of wild land and want to maintain its natural charm, but still be able to  control and cultivate it whilst preserving nature? We would be pleased to help you. Our goal is to work together with nature, not against it.  With the brushcutter we lay out access lines and service paths, which integrate into the natural picture and make nature enjoyable, without destroying it.
The procedure can be applied to shrubs of any kind (matos) up to wrist strength and especially for brambles (silvas). Slighter branches are shredded while stronger trunks can be cut for fuel. This cleaning method does not disturb the soil life and moreover uplifting trees from their natural regeneration, which would otherwise fall a victim to the plough, can also be carried out.
The work can be either a total or a partial clearance. Examples of the latter would be the creation of fire breaks, access lines or paths for the cork cutters.
Moreover we are pleased to offer our help in the planning of infrastructural measures like pathways and barragems as well as installing irrigation systems.