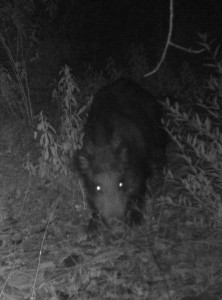 With our wildlife camera we can monitor the game occurring on a plot. This photo trap is a useful instrument as well for professional surveys, as for private land-owners, who want to know, which species roam on their land.
At day time the camera takes color pictures. At night black and white pictures are recorded with an infra-red flash without disturbing wildlife. Short film sequences can also be recorded. Via the display of time and date conclusions on the habits of the animals can be drawn.
We can professionally install the camera in the field and later transfer the data onto your computer. Please contact us for further information.