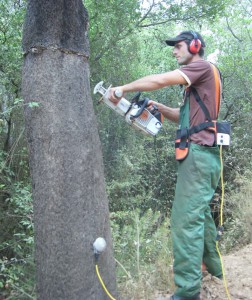 We carry out the cork harvest with the help of the latest technology, using a motor driven machine which automatically measures the depth of the cuts, to prepare the cork to be stripped off. This way damages on the trees are minimized, the health of the cork forest and high qualities are maintained for the years to come.
We work according to the best practice guidelines and in coincidence with the FSC sustainability criteria, making sure the trees are not harvested to early or to high up and thus stay healthy and provide a higher output in the long run.
Finally we can create a GPS based map of the trees, so the harvest can be monitored and trees are easier to be approached in future harvests.