Yoga Hollidays in Portugal
Do you want to spend your hollidays under the Mediterranean sun and enjoy an intensive Yoga- program? Then we have exactly, what you want: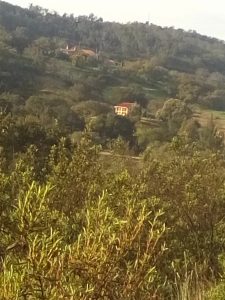 In the calm and idyllic hillside of the Alentejo, between Cork- and Eucalyptus forests you can find back to yourself and your inner peace.
At our school we teach Hatha- Yoga with Iyengar- influence, meaning, that we use props to enable everybody to ideally carry out the postures. Our Yoga- school is situaded between two dams, which invite to cycling and walking tours. The Yoga course includes a day trip to the wild- romantic Costa Vincentina with Beach- Yoga. Besides we offer relaxation massages.
We offer the Yoga- workshop in 3 – 5 hour- days (as to be combined).
The workshops include: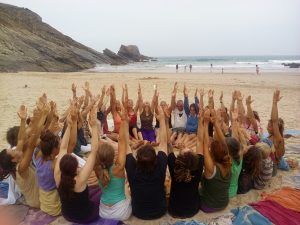 – 3 hour workshop: Meditation, Asanas
– 5 hour workshop: Meditation, Kriya, Asanas, Pranayama
Group size: 3- 10 Personen
Accomodation: in the rustic "Artists house" in the neighbourhood of the school.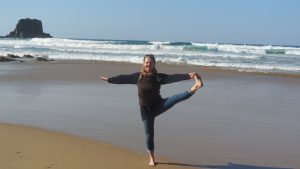 The teacher, Connie Kramer- Kaltenbach is practicing Yoga since 1992. She graduated as Yoga teacher 2012 in Monchique, Portugal and completed the advanced muli- style – teacher course and Yoga- Therapy 2017 in Rishikesh, India.